Butler's pantry have become a favorite room in today's home. Basically, a butler's pantry is a connecting space, typically from kitchen to the dining room, or living room. The primary use was as a serving station for formal gatherings. These rooms contained china and silver, and had doors with locks. The meals were plated for guests and served by butlers. There could have been a dumbwaiter.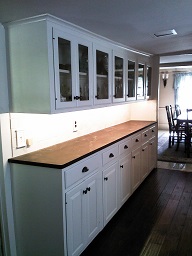 The pantry is this antique home has single row of which cabinetry works well for buffet styled dinners.



Butlers pantries are loved so much in old houses, that they are being built in new ones. This building trend had died out because of the food shortages during the wars, but farmhouses needed and kept them. After the wars, the modern families simply went to the grocery store. They didn't need a pantry as they shopped more readily.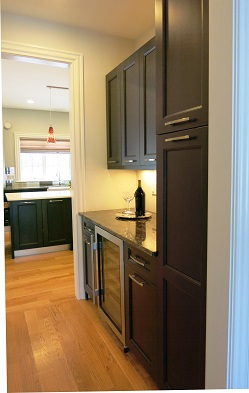 This pantry will be used as a bar, with a tall cabinet for the trips from Costco.



Todays many butler room functions include: holding wine, creating a coffee bar, storing food, using as a baking room, along with storing china and stemware. It can have a sink, dishwasher, trash barrel, ice machine, cappuccino machine or wine fridge. Depending on needs, can be one sided or two sided. Typically windowless, its great for tall vertical storage. Plan on a space for a folding ladder or step stool. Consider the traffic into dining room when planning, especially appliance locations. If you are considering glass doors, check out Adding Glass Doors to your Kitchen Cabinetry blog.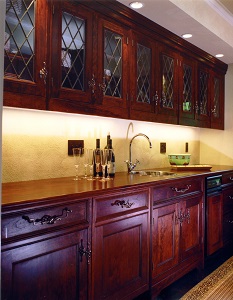 This Butlers Pantry is complete with a dishwasher and compactor. The leaded glass doors were fabricated to match the original windows in this Tudor style home.
While they used to be hidden from view, today butler's pantries have become a show off! Do consider special finishes, as your guests will see this space, and may even linger here. It doesn't have to match your kitchen but should aesthetically relate. Being the smallest room in home, you can be more bold with the finishes. The lighter use also allows you to choose materials not best suited for kitchens, such as marble or wood tops. Its a perfect space to show off a farmhouse sink.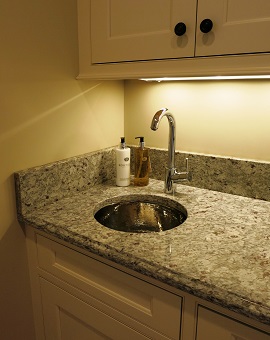 The hammered nickel sink adds a decorative touch to this Butler's Pantry.
Need help planning your butlers pantry? Give us a call - we would love to help you!