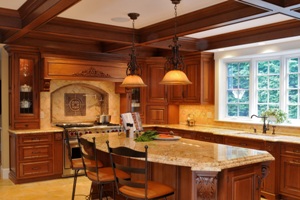 This family of 4 gained a fully functional, completely organized kitchen with their addition. We chose Great Northern Cabinetry, a semi-custom line willing to make the one of a kind solutions for my clients. Here are some of the kitchen cabinet ideas that helps keep everything organized.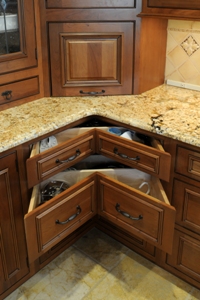 Instead of the standard lazy susan cabinet in the corner, this client opted for the ease of the corner drawers. With the interior partitions, pots, pans and lids are organized, along with larger measuring cups and odd pieces, like a cooking timer.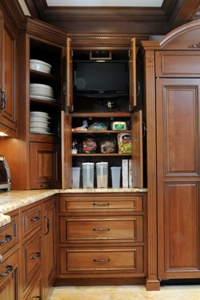 A kitchen television requires as much planning as locating any appliance. This tv is on a swing out arm, so it can be easily viewed from the island, yet tucked away when not in use. The space below is utilized as food storage for the children's' cereal and snacks.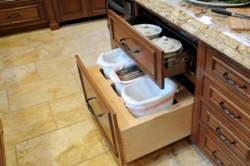 The paneled warming drawer disappears into the beaded inset opening of the cabinetry. The pullout below, a drawer box with a lid, has 3 additional barrels cut in, to separate the recyclables that are brought to the local dump.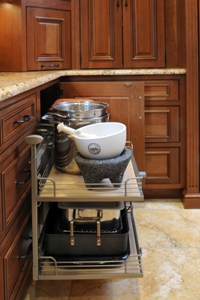 This blind corner option - Magic corner - takes 48" of space on the long wall, and 24" on the other. The height adjustable trays full swing out from behind the door, with another tray inside that moves forward.
What is your kitchen currently lacking? Is your counter top space cluttered? Is there unused areas in your kitchen? Let me know!