As the open plan home concept continues, kitchens are being located in the center of the home with very few walls. With kitchens averaging only 15 cabinets, this is now requiring each cabinet to hold the most it can, in an organized fashion.
Here are Top 5 Latest Kitchen Cabinet Ideas: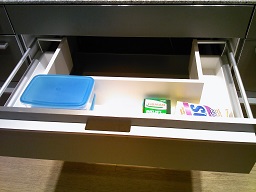 This U shaped drawer captures the space around the under mount sink. Use this space to store scrubbies, detergent boxes and a compost bin. On full extension glides, this drawer bottom wipes clean.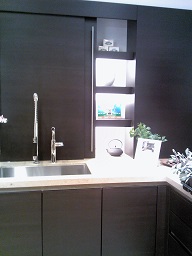 The full height sliding door, located behind the sink wall , has a continuous counter top running under it. As opposed to a traditional appliance garage, you are no longer limited in width or height for storing your objects. There is continuous counter top work space, approximately 36" deep.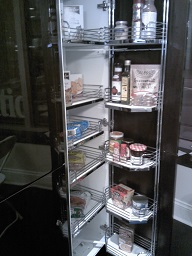 This pantry has door racks for the smaller cans or boxes, with roll outs inside the cabinet that pull forward. The door needs to swing a full 160 degrees for the mechanism to fully function.
Related story: Pantry Cabinet Design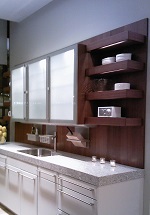 Thick loose wall shelves, a pottery barn inspired look in the kitchen industry. Dishes, bowls and glasses stack up naturally. Why not make it easy for your guests to help themselves? Also great for multi-generational kitchens, when the kids are involved in preparing meals and emptying the dishwasher.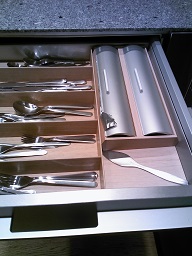 A cutlery tray that also handles the wraps. Serrated edge to easily remove the amount that you need.
Related story: Top 10 Kitchen Cabinet Ideas
Do you like these items? Anything in particular that you would like to store? Ask us, we are here to help you!