One of the most used parts of your new kitchen cabinetry will be the drawers. Every kitchen should have at least 7 drawers. Drawer box construction should be considered when choosing your kitchen cabientry.
Drawer Box Construction Types:
A. Wood drawer box - can be beech hardwood, maple, dovetailed joints. These are standard in traditional kitchen cabinetry.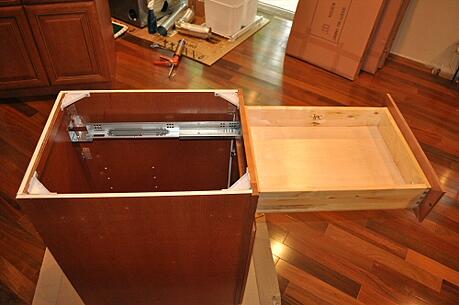 B. Tandem box - sides are double walled gray epoxy powder-coated metal, bottom is typically melamine, with a laminte finish. Drawer front is applied to the sides of the box and can easily be adjusted. These drawers are used for a more contemporary look.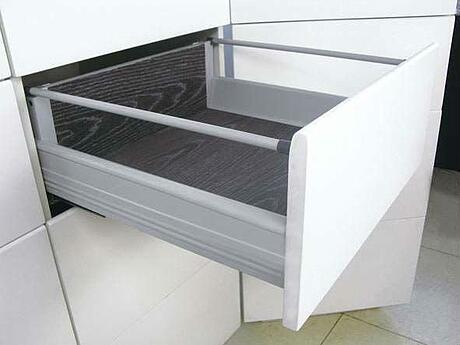 Drawer Box Glide Types:
Cabinetry that was built on site 50years ago, did not use drawer glides. The drawers were pulled open, and the saw dust created when the box rubbed against the wood frme conveniently fell into the cabinet below. These glides will bring your kitchen to the 21st century!

A. Undermount glides with 3/4 extension, epoxy coated - These are rarely used, except for apartment kitchens. The nylon rollers can bend, similar to that grocery shopping cart that needs to be pushed, instead of rolled.
B. Undermount full extension - This guide opens all the way to provide easy access and reach to all contents.
C. Undermount full extension with soft close feature - The quiet-close reduces drawer slamming and bouncing back. For the quantity that most cabinet manufacturers purchase these, soft close glides typically are not much more money.
When shopping for your kitchen cabientry, ask which drawer box construction and drawer glide is the standard choice for the cabinetry. Sometimes the upgrade that you spend on the stock cabinetry line, makes it worth it to purchase higher end cabinetry line, where the upgraded glide is their standard.
See Related Blogs:
Plywood vs Particle Board Cabinets
How to Select Kitchen Cabinets - Door & Drawer Style
How many drawers does your kitchen have? What can't you store with out a drawer?
Contact us today for a free consultation!