Although new kitchen design trends occur every year, some trends have made such a positive impact on homeowners that us designers have no doubt that these trends are here to stay. One trend we recommend that our customers consider for their next remodel is a kitchen designed with an open kitchen plan.

What Is an Open Kitchen?
An "open kitchen" simply refers to a floor plan in which the kitchen isn't completely cut off from one or more adjacent rooms by a wall. In past traditional home design, there would be a wall added because the kitchen was considered a private "work" zone that you, your family and your guests didn't need to see during a meal or while entertaining.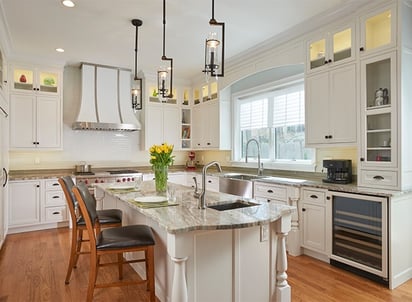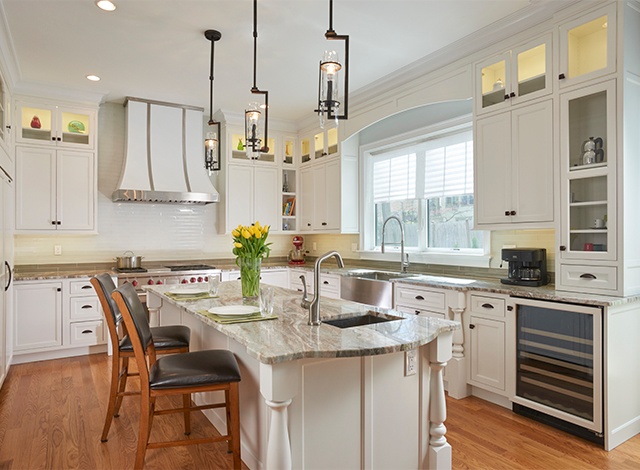 By opening a kitchen, you can have a multi-functional, large central island.
What Are the Benefits of an Open Kitchen?
This modern trend has evolved from people wanting more from their kitchen space:
Breathing Room -- A closed floor plan can often feel cramped. This type of kitchen is difficult for two people to cook. Cramped quarters can also result in your bumping into someone resulting in food drops or, worse yet, injury. An open floor plan between the kitchen and dining room provides you with more overall space and a larger traffic flow outside of the work triangle that helps prevent traffic congestion and accidents.
Greater Organization and Efficiency -- An open kitchen makes it possible for you to redesign the layout of your kitchen and add extra work zones and countertop space like a central island. It also allows space for a

breakfast nook or bar, peninsula lower cabinet and/or food pantry. It can also improve lighting conditions as your kitchen will receive extra natural light from any dining room windows.
Better Personal and Social Experiences -- An

efficient kitchen with more light creates a relaxed and comfortable space with an "airy" atmosphere. C

ooks are no longer cut off from their family and guests. The dining room becomes less formal and is no longer reserved for one meal or special events. The open design improves your interaction with others. You can cook and also talk to guests in the dining room without shouting through a wall. Family members can eat in both rooms and still socialize with one another

.
Is There a Compromise?
If you feel the need for a "barrier" between their kitchen and other rooms, there are options. Several open kitchen compromises exist that allow you to interact with people in the dining room while still retaining a slight barrier:
Half Wall -- Can be built at 42" high, to be used for bar seating


Lower Cabinets -- Replacement of the wall with a peninsula lower cabinets so you have some separation and convenient extra work and storage space.
Edesia Kitchen and Bath Studio will work with you to create a better kitchen. We offer floor plan design with our kitchen products, including cabinetry, countertops and fixtures. We guarantee you will love the results! Contact us today for more information about creating a personalized kitchen design plan or to schedule an appointment.