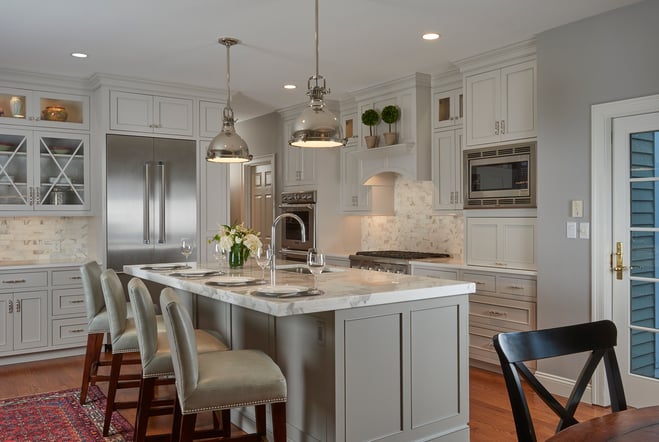 While setting a budget for your upcoming kitchen remodel may not be as fun as browsing different floor plans, choosing custom cabinetry and hardware, or picking out new appliances, it is certainly just as important. If you've spent any amount of time sifting through the numerous kitchen galleries on Pinterest or Houzz, you've probably noticed that kitchens are as unique as their homeowners. With so many designs, materials, and upgrades to choose from, it's very easy to fall in love with a concept, think outside your wallet, and accidentally overspend.
What is the Average Cost of a Kitchen Remodel?
The average cost of a kitchen remodel in Burlington, MA is $25,176, but the typical remodel ranges from $16,243 to $38,432. Small (or low-end) kitchen remodels usually stay around $65,000 while large (or high-end) can climb all the way up to $75,000.
How Much Should I Spend on My Kitchen Remodel?
The first step to setting a budget is taking a close look at your finances and deciding how much you can afford to spend. After you've come up with this figure, you'll want to consider how long you plan on living in your home. If you think you'll be selling in less than five years, you'll want to think of your kitchen remodel as a real estate investment and only spend what you think you can get back. If you plan on living in your home longer than five years, you can use that budgeted figure to plan a kitchen remodel that will make you and your family happy and comfortable.
How Should I Expect to Allocate My Kitchen Remodeling Budget?
After you have your budgeted figure, you'll want to consider at the remodeling process and the materials involved in order to determine how much you should spend on each piece. We recommend using a percentage breakdown similar to this one.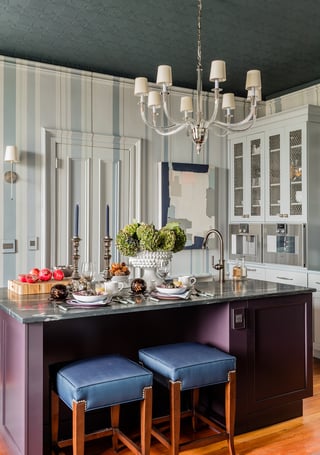 Design fees: 4%
Installation: 17%
Appliances and ventilation: 14%
Cabinetry and hardware: 29%
Countertops: 10%
Lighting: 5%
Flooring: 7%
Doors and windows: 4%
Walls and ceilings: 5%
Faucets and plumbing: 4%
Other: 1%
(Source: Home Advisor)
Here are a few national averages to keep in mind when aiming for a specific price range:
Cabinetry can run from $250 a lineal foot (including uppers and lowers) to $1,300 a linear foot for imported products.

Countertops can range from $40 for laminate to $220 for stone.

Appliances start at $3,500 for a full standard package to $15,000 for professional grade.

Cabinetry hardware, plumbing fixtures, lighting, and flooring are often considered smaller costs, but they can add up depending on the quality of material.

Labor costs vary and heavily depend on the amount of renovation needed, as well as the site conditions.
Note: Making changes to your kitchen's original floor plan—like knocking down the dining room wall, moving the sink and range—will add to the construction costs
It's always a good idea to set aside at least 3% of your overall budget for miscellaneous things that may come up so you don't end up reaching for funds not dedicated to your kitchen remodel.
How Can I Avoid Spending Money on What I Don't Need?
Hiring a professional kitchen designer is a great way to make sure you get everything you want out of your kitchen remodel while staying within your means. During your initial consultation, your kitchen designer will listen as you share the vision you have for your kitchen while observing the space, then make recommendations based on your lifestyle and your unique needs, all while keeping your budget in mind. A good kitchen designer will be able to help you cut costs in the right places so you'll have the flexibility to splurge on that special upgrade you've been eyeing.
If you're planning to remodel a kitchen in Burlington, MA or the surrounding areas, take a look at our remodeling process and give us a call at 781.238.8800. You can also fill out this online form and we'll call you!
Have more remodeling questions? We've answered some of your most burning FAQs here!