Much of the conventional kitchen design as we have known it came about as a result of WWII, when a record number of women entered the workforce to take on jobs typically reserved for men. With less time in the kitchen, speed became the goal of meal preparations—namely TV dinners, microwaved meals, and processed foods. However, today, more and more homeowners are turning to healthier and more mindful cooking and eating lifestyles, and they want kitchen design elements that support that trend.
In fact, at the 2018 Global Wellness Summit, the "wellness kitchen" was identified as a major trend that will transform our living spaces. A report from the Summit noted that "the kitchen is the heart of the home and should further our healthy lifestyle, not hinder it." Advancements in technology and changes in kitchen design will nourish a healthier lifestyle for our bodies and our minds, as well as our planet. Here are some of the changes that support the "wellness kitchen" trend:
Light, Air, and Water Quality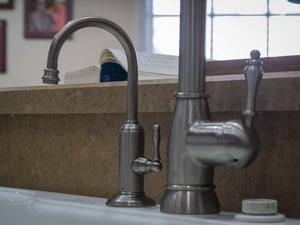 The entire environment of the kitchen is getting a health and wellness overhaul, including the quality of the room's light, water, and air.
Proper lighting over each work area makes meal preparation easier. And when those lights are on dimmers, the kitchen ambiance can be adjusted for working or dining. Overall, the kitchen lighting will accommodate everyone who will be using the room.
Today's kitchens are being designed with larger window space to allow for growing herbs or a small indoor container garden. The indoor plants in turn help to remove CO2 from the air and add oxygen. In addition, air-quality awareness is fueling the demand for better hoods and ventilation systems to filter CO2 and other pollutants.
Meanwhile, advances in water filtration devices are eliminating toxic impurities like mercury, lead, iron, and fluoride from the kitchen's water sources.
Cleanliness, Composting, and Recycling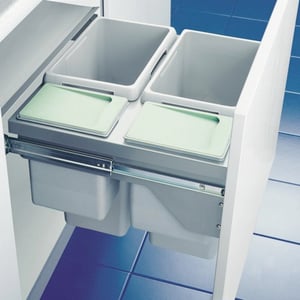 Design elements such as foot-operated trash containers and hands-free faucets reduce the spread of germs. Cabinetry and countertop surfaces are also being designed to be easier to clean, such as with quartz. In addition, expect to see innovative food prep solutions that support cleanliness as well as reduce food waste.
Composting and recycling solutions are popular requests in today's kitchen designs, particularly among millennials. The idea is to make composting and recycling an integrated part of the kitchen design so that both tasks are simpler and quicker to do. For example, composting containers can be integrated into a countertop or portion of the sink basin.
Workstations & Function
Long gone are the days when a woman was the sole operator in the kitchen. Modern kitchens are designed for more than one cook, with multiple workstations for multigenerational families or friends to gather. Adding a sink workstation or other meal preparation stations allows for easier prep and clean up.
Fresh Food Prep Options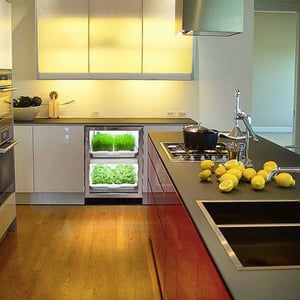 Today's home cook is incorporating more fresh foods into their daily meals and snacks, so solutions for easily preparing or cooking those items are on the rise. Cooking with steam ovens is growing in popularity as it locks in nutrients and keeps foods moist, and they are increasingly being incorporated into kitchen designs.
At the same time, juicing and blending fresh fruits and vegetables is also quite popular. Today's kitchen designs are incorporating cabinets or appliance garages that easily accommodate these small appliances.
All of these healthy living kitchen design trends not only support millennials' lifestyles but also help with older homeowners who want to age well in place. The kitchen of the future is definitely geared towards supporting more healthy habits. What healthy living elements would you want to add to your kitchen? We'd love to hear about it.
Edesia is a Best Of Houzz award winner for client satisfaction in 2017 and 2018. If you're thinking of renovating your kitchen or incorporating some healthy living trends, view some of Edesia's projects and reviews on Houzz. Then, take advantage of our free consultation and estimate, by contacting us online or calling (781) 238-8800.