In the last blog post, we took a look at the most important factors that you'll want to consider when choosing a kitchen sink, which is one of the most frequently asked questions we hear at Edesia. In this blog post, let's explore the best kitchen sink accessories that just might make you wonder how you ever lived without them before, even if you haven't heard of some of them.
Kitchen sink workstations have come a long way since the day of our grandparents, or even our parents. The latest kitchen sink accessories are designed to make your work in the kitchen easier, more enjoyable, and in some cases, healthier. Here are 6 of our favorites:
Drainboards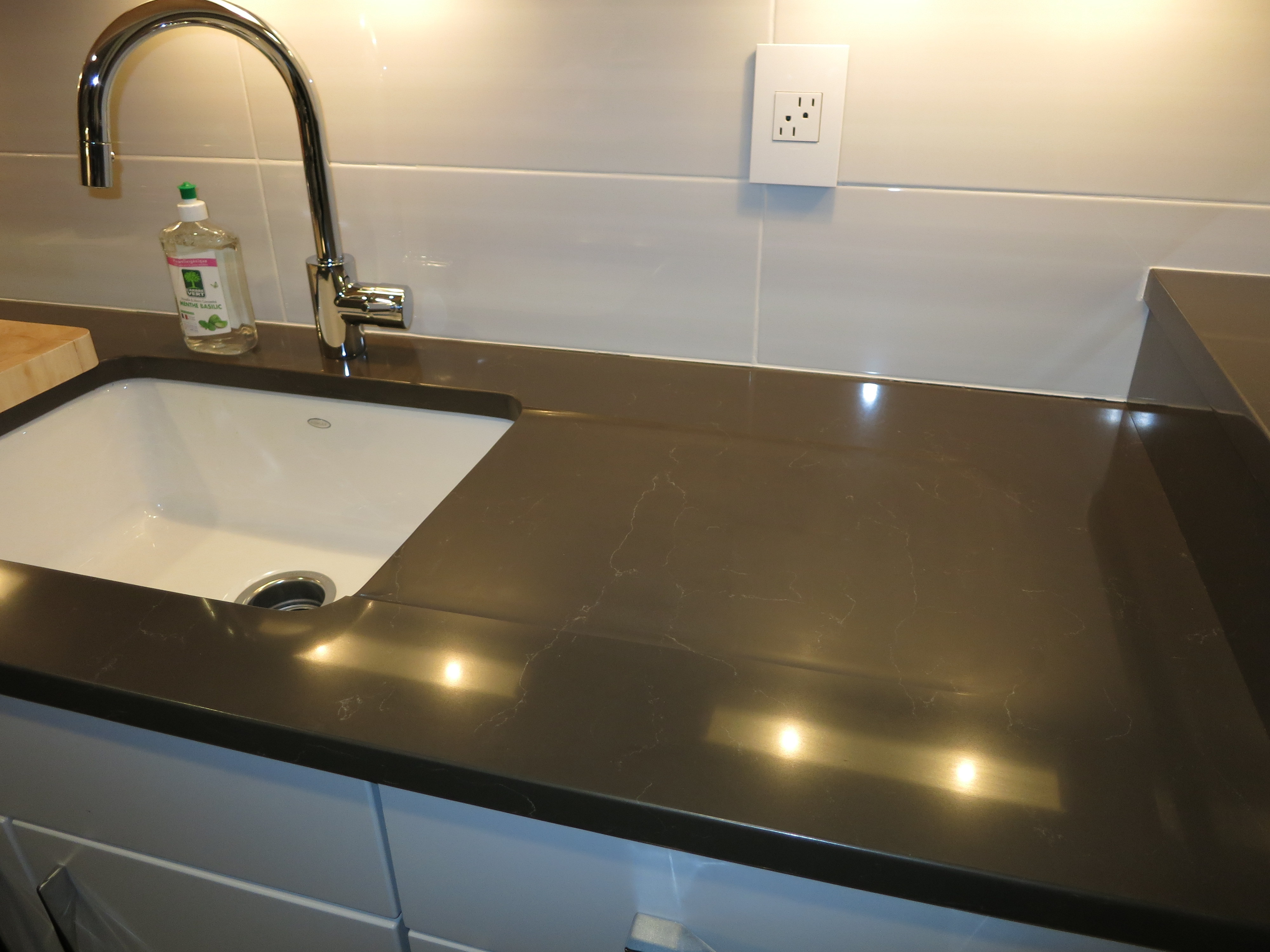 Recessed drainboard on the right slopes into the sink. A drainboard is a sloped board or surface that's recessed into the countertop next to the sink. Drainboards can be smooth or have grooves, and they are wonderfully useful for air drying items you've hand washed. Long popular in Europe, drainboards are becoming more trendy in U.S. kitchen designs today and are great for keeping countertops clean and dry because they channel water straight into the sink and down the drain.
Insta Hot Taps
Want a steaming hot cup of tea without having to wait for the kettle to heat the water? An insta (or instant) hot water heater gives you access to boiling hot water through a small tap at the sink.
Insta hot water heaters are basically small electric hot water tanks that fit under your kitchen sink. A small water line runs off the sink's main cold water feed line and supplies water to the tank. The water enters the base of the tank, where it's heated by an electric element. Once heated, the water moves up into a holding tank at the top of the tank where it's kept hot. When you turn on the insta hot tap, hot water flows out the top of the tank and fresh cold water flows in at the bottom. Plus, some insta hot units also have extra features like water filters.
Over- Or In-Sink Colanders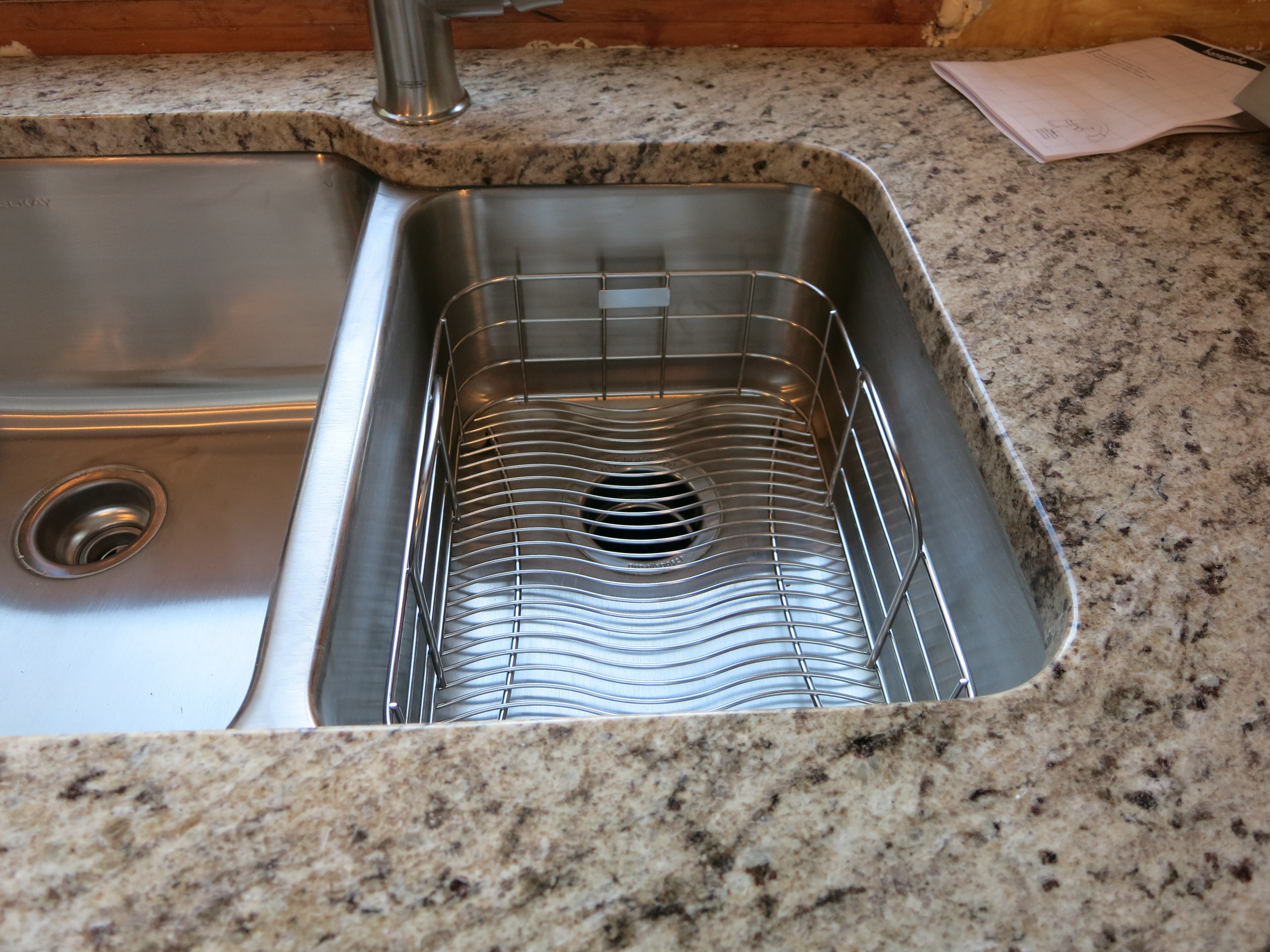 Stainless steel in-sink colander. There are many options for utilizing colanders more efficiently in the kitchen sink, making your working space much cleaner and functional. There are colanders that are designed to rest over the sink with retractable arms, and colanders that fit within the sink bowl. Both are terrific options for draining salad greens, vegetables, fruit, and more. You'll no longer have to root through your cabinets to find that small round colander that's awkward to use.
Water purifier
Speaking of water filters, built-in water filtration units are booming in popularity as people become more concerned about the quality of their tap water. Water filtration units remove impurities like chlorine, fluoride, heavy metals, pesticides, and limescale, and are easy to install. The purpose of water filtration units is obviously for the purity of your water, but another major benefit is vastly better tasting drinking water.
Faucet Sprayers & Styles
You have more options for your kitchen sink faucet that you most likely realize, and a few simple terms can help get you started. There are two options for faucets that have an integrated spray head function—a "pull down" faucet with a head that pulls down into the sink, and a "pull out" faucet, which pulls straight out.
A pull down faucet has a flexible hose that you can extend and retract into the faucet, and generally has a higher arcing spout. Pull out faucets usually have shorter spouts to house the spray head. A pull down faucet is ideal for filling tall pots and pitchers in the sink, whereas a pull out spray is good for tight kitchen sink spaces.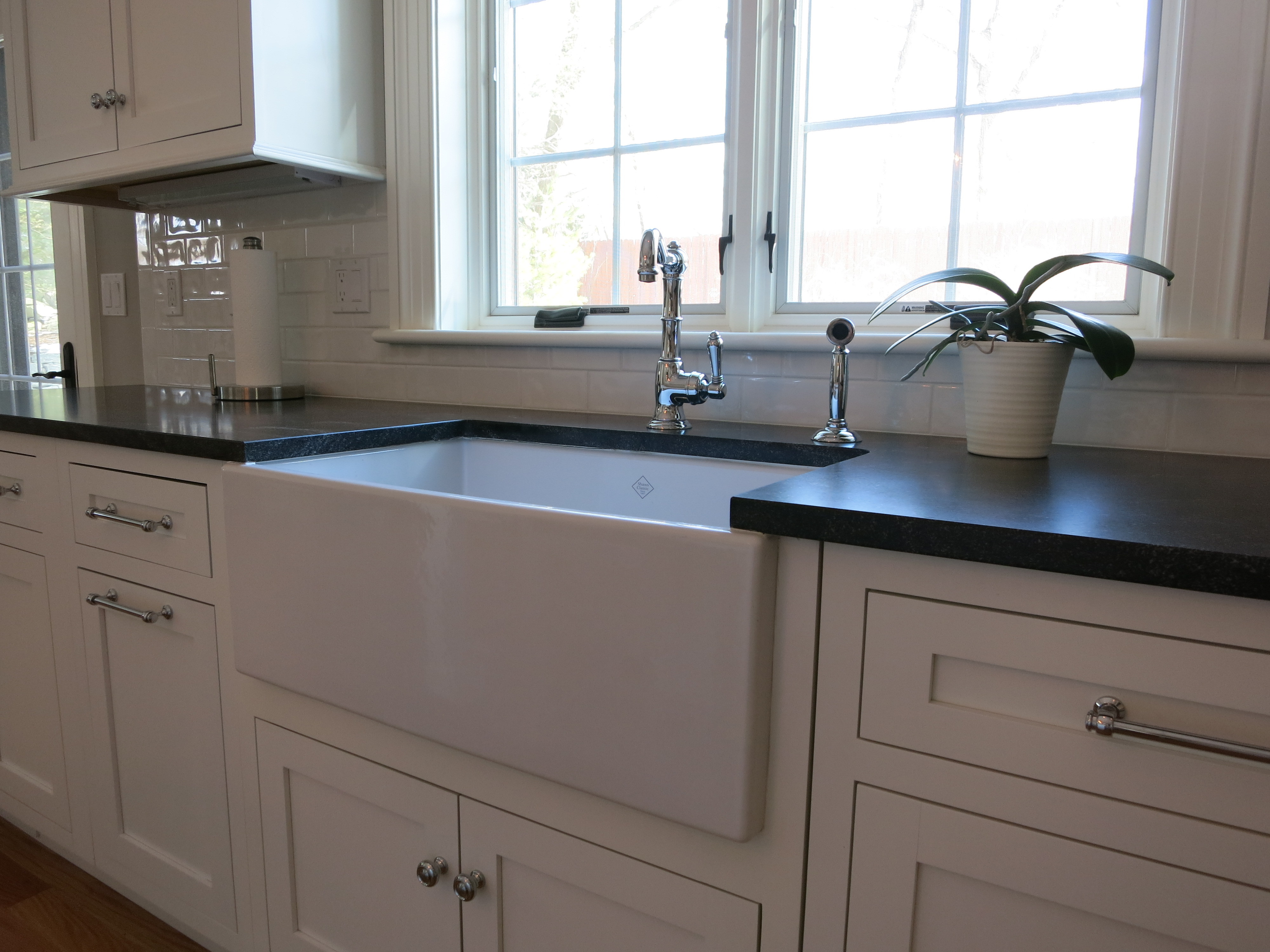 If your sink doesn't have an integrated spray head faucet, you may choose to incorporate a side spray, which looks like another small faucet. The side spray has a long hose that you can pull out and maneuver the spray around your sink, much like an integrated spray head but as a separate entity from the main faucet.
Another term to be aware of is a "bridge" faucet, on which the hot and cold levers and the faucet itself all branch off of one piece of hardware. Bridge faucets require only two holes in the countertop instead of three, and can incorporate pull out sprayers.
Built-In Soap Dispensers
Kitchen soap bottles always seem to become sticky from drips that accumulate under the bottle, which then makes the edge of the sink area a mess. Built-in soap dispensers are a fantastic way to avoid this annoying scenario by eliminating the need to have a dishwashing soap bottle on the countertop in the first place. Plus, your kitchen sink area looks more organized and less cluttered. Fill the dispenser with half soap and half water to avoid clogging.
Air Switch Garbage Disposals
You may be used to flipping an electrical switch on the wall next to the kitchen sink when you want to run the garbage disposal, but what if your sink is on a kitchen island or not near a wall where an electrical switch can be easily installed?
Air switch garbage disposals are an ideal solution, allowing you to simply push a button mounted on the countertop near the kitchen sink. These disposals use air pressure instead of electricity to activate the unit. You just push a button on the countertop that activates the disposal power control unit beneath the sink. To turn the garbage disposal off, you simply press the button again.
The hours you spend in your time in the kitchen can be much more efficient and enjoyable with so many handy accessories to choose from for your kitchen sink. If you're debating which type of sink to choose for your kitchen renovation, or which accessories would most suit your lifestyle, come talk to us!
Edesia Kitchen & Bath Studio is a Best Of Houzz award winner for client satisfaction in 2017, 2018, and 2019, and you can view some of our projects and reviews here. Take advantage of our free consultation and estimate by contacting us online, or by calling 781.238.8800.