I attended the Kitchen & Bath Industry Show (KBIS) in Orlando last month to check out the latest news and trends from the industry. If you didn't see it already, take a look at the last blog post about the top 5 inspiring trends for kitchen designs. Now, let's take a look at what's trending for bathroom designs in 2018.
Technology
Technology is changing everything from the way we work, learn, and interact with one another, so why not bring bathrooms in on the smart fun? The most notable trends I saw at the show involved ways to use technology to make bathrooms both more functional and more spa-like.
For example, imagine if you're heading home after a grueling day at work and can't wait to slip into a warm bath. With smart home technology, you'd be able to start filling the tub before you even walk in the door, with the water temperature of your preference. Then, you can sync the jets to spray in rhythm with the music playing on your iPod, while LED lights in the tub change color in sync with the music as well.
Freestanding Tubs
Speaking of bathtubs, freestanding tubs have been steadily growing in popularity. New designs for stand-alone bathtubs can be heated and can still have jet sprays. Many of these tubs are sculptural in design, serving as a showpiece work of art in the bathroom. Check out the "high heel" tub on the right!

Cabinet Pull-outs
Internal cabinet accessories like vertical pull-out storage drawer offer fantastic solutions for saving space and staying organized. These new storage options don't interfere with the decor and style of a bathroom, and offer clever ways to utilize the height and depth of any cabinet.
Not Your Old Gold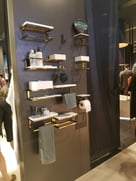 Gold finishes are making a comeback, but the tones are different from what you may remember from the 90's. The warmer tones compliment the cooler gray paint and tile colors that have remained popular in recent years. With matte, satin, or spun finish options, the gold accents are classy options for hardware, light fixtures, or mirrors and they work with many different bathroom styles. Plus, the matte gold finish doesn't show water spots or fingerprints as much as chrome, which is an added bonus.
Adaptable, Hidden Lighting
New creative lighting techniques allow for mirrors and sinks to light up based on your preference. Many modern bathrooms will also have less obvious lighting sources that are hidden behind panels or fixtures. And strategic lighting techniques that incorporate dimmers for fixtures can create a wider range of spa-like moods.
It's always inspiring to get a hands-on look at new products and design ideas, and KBIS never fails to deliver the leading styles and innovations of the industry.
There are so many beautiful and smart options for bathrooms today, so if you're thinking of renovating an old bathroom or need help designing a new bathroom, come talk to us!