Latest Kitchen & Bath Trends from New York Homeshows
Recently, I attended the Architectural Digest Home Show and the International Contemporary Furniture Fair in New York. These trade shows feature the latest kitchen & bath trends with finishes, stone, appliances and home furnishings. The best manufacturers bring their best products for the trade to see. These are some of my personal favorites:
The Gallery, The Ideal Kitchen Workstation
Taking the kitchen sink and turning it into a multi-person workstation, where together you can prep cook, serve, entertain and clean up all in one place. Made from 16 gauge stainless steel, this under mount sink has a reversible side drain. There are 6 sizes, ranging from 84" to 24", and it is 10" deep. Each workstation includes cutting boards, bowls, colanders, wood platforms and drain racks that can double as a trivet.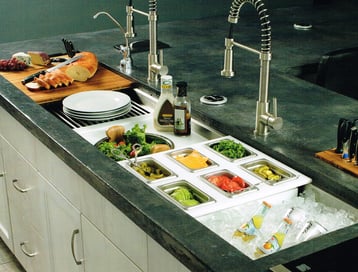 Imagine standing at this sink together with your partner prepping for a dinner party!
Forbes & Lomax – The Invisible Light Switch
Inspired by the 1930's glass switches, the invisible light switch is a transparent acrylic plate which allows the paint or wallpaper to show thru. These are screwless, invisible, flush fitting wall plates made for switches, dimmers and electrical outlets. These are also available in 5 other finishes, as well as a paintable style. You are no longer limited to the standard plastic covers that your electrician might only have to offer!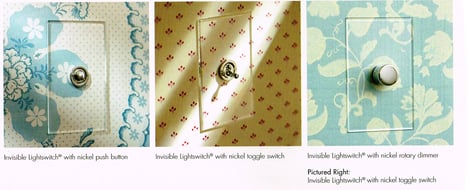 Your wall switches will blend into your decor!
Dynamic Closet
Made in Italy, this is an automated closet rod, can either operate by a switch, or connect to your smart phone or tablet. This makes for a very organized closet; perfect for the master closet.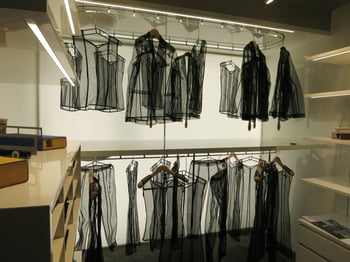 Just imagine your closet filled with Italian fashions!
There was also a larger selection of existing products that are still trending:
Laser cut stones
Made of all types of stones, cut into different shapes ranging from geometrical, symmetrical or random patterns. Stones can be used for backsplashes, flooring and some exterior uses. Check these out: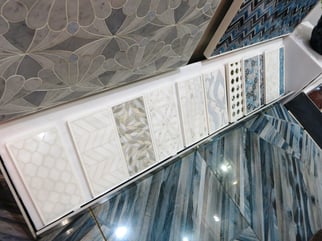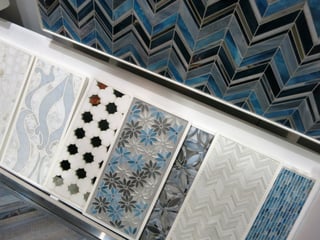 For more information on laser cut stone, check out our previous blog: Kitchen Backsplash Trends 2015
Waterfall Countertops
Another kitchen & bath trends is continuing a countertop down to the floor is called a waterfall top. We are seeing these tops in different thicknesses, made out of different materials and shown in different heights. They can be made deeper to create a seating area. Most waterfal edged tops are shown in a modern look.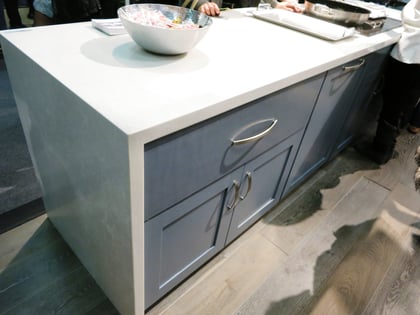 Quartz waterfall countertop with a mitered edge.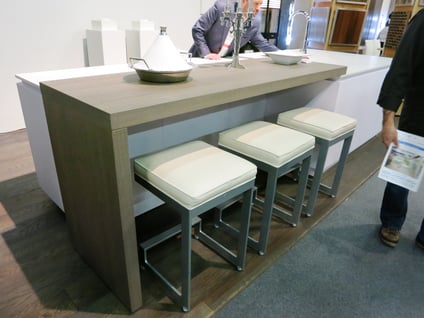 Wood waterfall edge overlaps the countertop to create a seating area.
What are you looking for in your new kitchen? Ask us - we are here to help!