How to Select Kitchen Cabinets - Cabinetry Finishes
Along with deciding upon your cabinetry door style, the finish you select will affect the overall look of your kitchen. With endless options and combinations, we will review the pros and cons of each finish to help you narrow down to your choice.
A. Stain on wood
Staining wood consists of spraying or hand wiping a transparent or semi-transparent stain with a protective top coat. The wood parts are sanded in between each step. The top coat is a non-yellowing sealer that is oven cured.
Cost: Majority available at no charge
Lead time: no additional time needed
Durability: very durable, as the stain permeates the wood. Touch up kit has a crayon to fill in any knicks.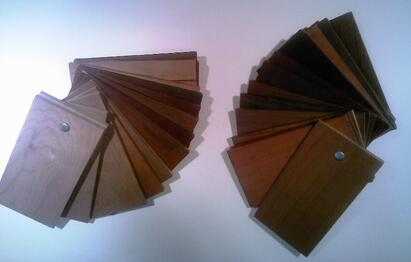 Great Northern Cabinetry maple and cherry wood samples
B. Paint
This is several coats of a solid color applied to wood or mdf, with a protective top coat. The parts are sanded in between each step. The top coat is a non-yellowing sealer that is oven cured. Stock cabinetry has 2 color options, semi-custom may have 10 colors and with custom, you may pick the color from the Ben Moore fan deck!

What is mdf? Read more here: Cabinetry Wood Types.
Cost: adds 5% - 15% to the price
Lead time: typically doesn't add to the lead time, add 1 week to be safe
Durability: Can hair crack at joints in wood frames, due to humidity caused expansion on wood doors. Some companies request you to sign a finish waiver, stating that you understand the wood movement and subsequent hair line cracks. To avoid such cracks, consider MDF painted doors. Paint can also chip with day to day use, so order a touch up kit with the kitchen. It will contain paint, from the same batch of paint used on your cabinetry and brushes on very easily.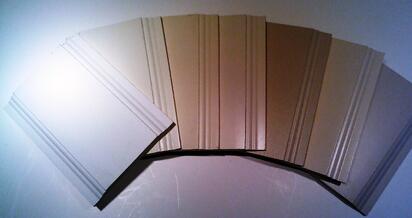 Yorktowne Cabinetry's painted finishes

C. Glaze
Glaze is an added coat to increase look of depth in frames and applied moldings and can be added to either a paint or stain finish. Colors available include black, brown, charcoal, pewter, white. Glaze can be applied with a brush, leaving glaze brush strokes all over the door, or pin stripped, applied in the door joints only, and rubbed off.
Cost: Adds 8 - 20% on cost
Lead time: Adds a week to the production
Durability: The same as the stain or paint finish that you adding glaze to.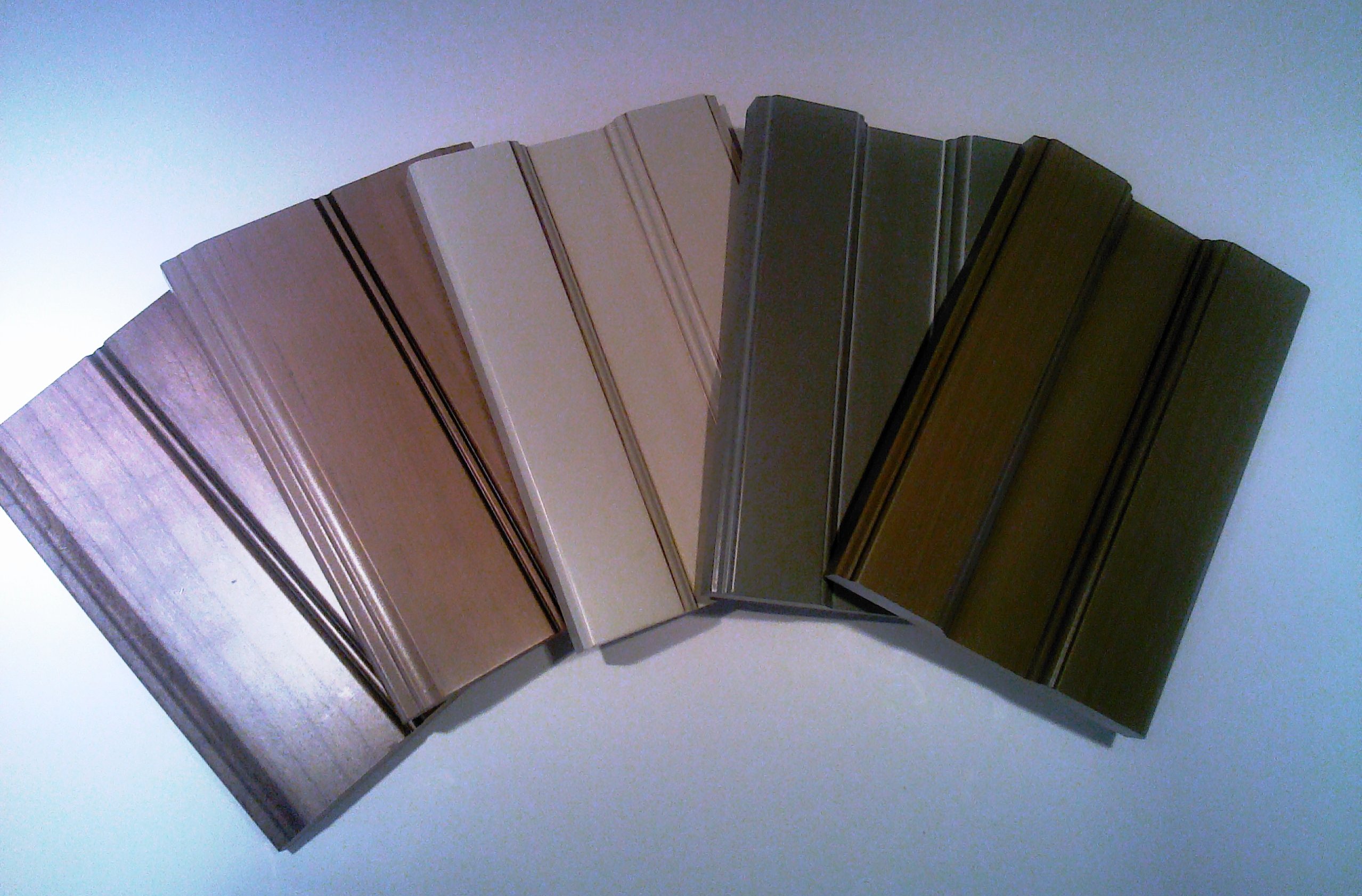 Holiday Kitchen's glazed finishes on woods and paints
C. Thermofoil
Thermofoil is a single piece of foil, wrapped around a ¾" thick MDF door. There are limited door styles; the pattern gets routed onto the surface. Many colors are now available; can be white to a super trendy color. Heat shields may be necessary for cabinetry adjacent to range and ovens, so it does not burn.
Cost: less expensive than wood doors
Lead time: standard lead times
Durability: Highly durable, indestructible finish. Damage would have to be intentional. damaged doors cannot be repaired, must be replaced.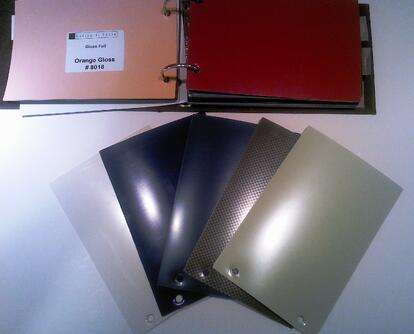 Holiday Kitchen's thermofoil finishes


D. Laminate
Surface applied to an mdf door, with many colors available. The edges are covered with a pvc edge banding. It is easy to obtain large sample pieces to help with the color decision.
Cost: Less expensive than wood doors, no finish upcharge added
Lead time: Subject to the availability of the laminate
Durability: Highly durable, indestructible finish. Damage would have to be intentional. damaged doors cannot be repaired, must be replaced.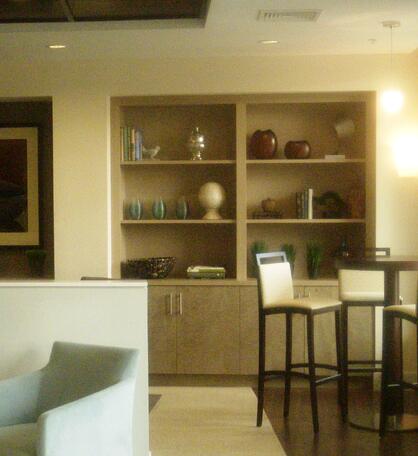 Laminate cabinetry is used for commercial projects for the large variety of
finishes and durability.
E. Parapan
Constructed of a high gloss solid acrylic. A sexy, glossy mirror like finish, lending itself to a contemporary styled kitchen.
Cost: available with custom cabinets, a pricier option
Lead time: will add 2 weeks for finishing
Durability: scratch and water resistant, UV resistant - color won't fade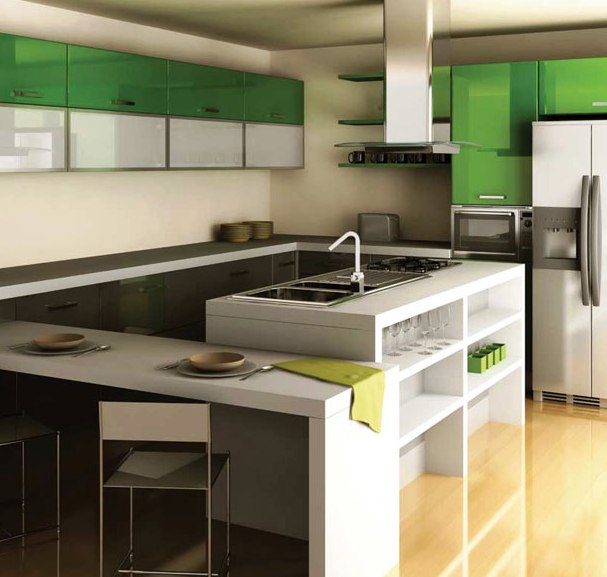 Green accents of Parapan doors
Character Finishes:
Can be added to stained wood, painted or glazed cabinetry, character finishes alter the appearance of your cabinetry, to create an aged look. Order a door sample prior to ordering your cabinetry to make sure it is what you were expecting. These options, which can add 10 - 30% to the cost, include:
worm holes - small round holes in random groups or singles
distressing - dents and dings to look aged and damaged
rounded edges - corners sanded down, losses the sharp edge
cracks, splits - splits in wood to simulate age
fly specs - small specs of dark finish added
worn look -has finish color sanded off, to show wood underneath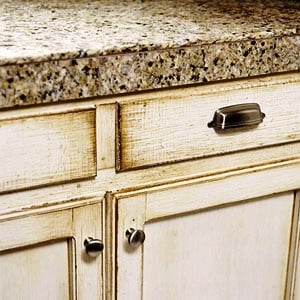 Worn thru doors and drawers, revealing the wood underneath.
Top Coats:
There are also options for the sheen of the top coat. Options are standard 40 degrees, matte 15 degrees, flat 5 degrees or high gloss at 90 degrees. The number refers to the amount of reflection the surface has from a light meter reading. Standard is the most common, paint finishes and glazes are typically 5 degrees. High gloss paint adds an upcharge, but high gloss laminate or foil doesn't add much.
For more information, refer to:
How to Select Kitchen Cabinets - Door and Drawer Style
How to Select Kitchen Cabinets - Construction Levels
How are you deciding on your cabinetry finish? What factors did you consider? Still have questions? Contact us today!